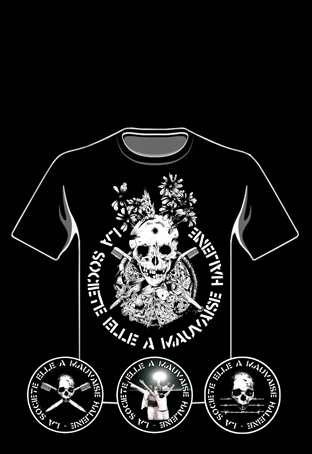 Some news
7TH HEAVEN
A year spent with the new crew and for celebrate it we just recorded three new songs, unhurriedly at home ... One of them should be on a compilation for supporting animal rights and for others ... well, we'll see!
Anyway we're happy with the result and the three songs will be available here as soon as possible.

Brand new, Carotide made us a nice design for a t-shirt (available in different size, "straight" or "girly"), we 've also some buttons, come to see us live or write us if you're interested ...



...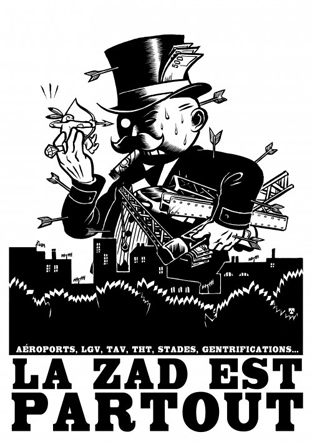 We're still here!
FIGHT AREAS!!
Go back... lot of gigs already booked here and there, often in the company of our siamese brothers of Les Fossoyeurs Septik for more fun (at least ours!). We're also motivated to go back to see the German comrades, probably in early April, and if the spirit of champagne will let us do it, we should again try to wedge a little weekend with our friends of Devore from Reims city...
Let's talk about records, a new one soon... We have a dozen new songs in stock, recording in January for release before the summer if all goes well!

Then...the world still stands, so it remains to bring it to fall...

As might be expected, the transfer of power in the hands of the socialists has not changed the situation, whether for illegal people who still waiting for the promised regularizations (in lille 125 of them have begun a strike hunger on November 02nd, 66 still pursues it ... more info on the blog of the CSP59) or migrants who continue to suffer the harassment police in Calais (keep informed through there...).
This is not better for the zad's comrades who are fighting for months against the construction of an airport in the north of Nantes and who have seen Jean-Marc Ayrault, former Mayor of Nantes and socialist deputy of Loire Atlantic, also the main promotor of this project, won the post of prime minister...one might as well say that they need support more than ever! (complete and updated information on a daily here.)
And since the hypocrisy of those in power has no limit, it's Dominique Plancke, green representative elected in the city hall of Lille, the same one which paraded during the great demonstration of reoccupation on November 17th against the project of Ayraultport and who had reopened a squat on the zad under the collusive eye of the media with his friend José Bové who signs the mail announcing the eviction of the friends of L'Insoumise, squated bookstore opened since September in lille, 10 rue d'Arras...

The struggle continues, their brave new world must die!!


...
I prefer to break it all...
GO TO VOTE?!
A lot of movement here since the tour, we did some gigs without one or the other of us and sometimes we canceled some shows at the last minute for reasons beyond our own will as they say... (sorry to the swiss comrades and thank you to the briton companions for the patience). Fortunately, band full or not, good times anyway... now we're back normally at least until June. Then we'll probably do a break, time to release new songs,and maybe more...
And to finish on something far more important in this crazy period to the race for the head of the kingdom of (f)rance, a little healthy reading will not hurt you.

"[...] As long as you didn't understand that it's your choice, alone, to decide to produce and live as you like, as long as you'll accept - by fear - and you'll make - by belief in the necessary authority - your own leaders and managers, know that your delegates and your masters will live of your labour and your silliness. You complain about everything! But isn't you the author of the thousand wounds who destroy you?

You complain about police, army, justice, barracks, prisons, administrations, laws, ministers, government, businessmen, speculators, state employees, bosses, priests, owners, wages, unemployment, parliament, taxes, customs officers, investors, the high cost of food and rent, long days of work, the less sustenance, hardships without number and the infinite mass of the social injustices.

You complain but you want the preservation of the system where you vegetate. You start revolt sometimes but to begin again always. It's you who produce everything, who plough and sow, who forge and weave, who mold and transform, who build and make, who feed and fertilize!

Why don't you eat at your hunger? Why are you the poorly dressed, the poorly fed, the poorly sheltered? Yes, why are you without bread, without shoes, without house? Why aren't you your own master? Why do you continue to bend? Why do you continue to obey? Why do you continue to serve? Why are you the subordinate, the humbled, the offended, the servant, the slave?

You elaborate everything and you possess nothing? Everything is by you and you are nothing.

I'm wrong. You're the voter, the one who accepts what is; the one who, by the ballot, valid all his pain; the one who, by voting, dedicates all his constraints.

You are the happy valet, the smily domestic, the lackey, the stooge, the dog licking the whip, crawling to the grip of the master. You are the cop, the jailer and the sneak. You are the good soldier, the model doorman, the voluntary tenant. You are the faithful employee, the devoted servant, the sober farmer, the worker of your own slavery. You're your own executioner. What are you complaining about?[...]

CRIMINAL, it's the voter!"

Anti-election poster, March 1st, 1906. Posted in L'Anarchy No. 47 by Albert Libertad.
Full text available here (in french).


...
Kick fast, kick hard,
A GOOD COP...(RE)TOUR
Return journey, crossing 14 countries and 6000km in 17 days for 6 silly punx under the blazing sun in an old van of the police (it's not cool that?!). Some problems but who cares... Remains great moments and beautiful meetings!! Thank for everything to all the disco party crew in JUZ St Ingbert, Astrid and Hannes at Ballon Fabrik in Augsburg, Marko, Natalija and all the happy rakia crew in Zagreb, Jani Independent Scars and all good punks in Backa Topola / Subotica, Dimitris and to the whole team of Biologica Squat in Thessaloniki (keep the fight!), Victor and all motivated people of the Biblioteca Alternativa, Aurash Underworld in Bucharest, Tavi, Matei and all the Gluga Neagra Collective / Atelier DIY in Timisoara, at Septic and Mladost Club in Subotica, Matus and his frisbee in Bratislava, the good people of Subway To Peter in Chemnitz, Franzy, all the Friesen Crew and the kicker punx in Bremen, you are awesome! Than the others and the Bulgarian cops (or not!) goes to die...

Special big kisses to our friends from Ze Revengers for these 3 days we spent together and to Vinnie for his help and his cheerfulness during all this tour, may the Fries be with you!

And finally, extra special big hugs to Vavane for these past two years together, it was nice, maybe we miss you anyway, only few days... so what? :) Have a good trip Daddy!



...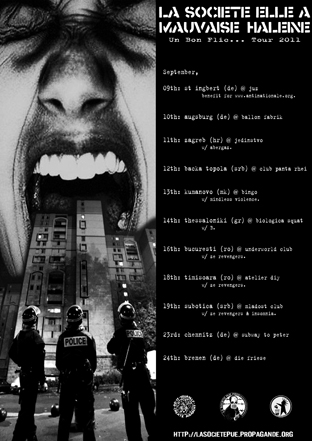 Oh no, it's the pigs...
TERMINATOUR!
Hop, we do it again! We'll be back on the road from September, 09th to 24th and this time, no fear, we'll go with a blue van and we'll test the disco party's level more in the south area: Germany, Croatia, Serbia, Macedonia, Greece, Romania, Czech ...yeah stayin' alive! We always have two dates to book somewhere in Hungary, Austria, Slovakia or the Czech Republic, if you can help us or just have an idea of whom we could contact for this, get in touch, full of kisses to win! A bit more info about it here.

Gigs again, we'll probably be in Switzerland at the beginning of November and the idea of going in Italy next spring follows slowly its course... Otherwise we're working on new material... To be continued!


...
2011...
RESIST, PERSIST, EXIST!!
2011 has started well for us with a nice stay in Millau (die José, die!) for a thematic day with film/discussion/concert entitled "banditry, illegalism, jail". Full of people at the opening doors and it was nice to see that people don't came just for the gig, even though this one would fit in a political context ... "Yes to the party, to the struggle also!! " Thank you to Camille & Dorian La Fibre, Fabien, Maya and all the organization for having invited us, hosted us and everything else!

Our two next gigs will be also for two important things to us.
The first one will support the Anarchists Against The Wall collective, who still needs money to finance the defense of Israelis and Palestinians activists who are fighting against the construction of the separation wall (more info here).
The second one will be in support of our Romanian friends of the Gluga Neagra collective who develop since nearly 15 years now punks, anarchists and DIY activities in Timisoara in spite of various problems with the local nazis and the state repression against them. They also need money to continue "serenly" their activities including the organization of the annual festival Reclaim! Underground Timisoara. More information about the collective's website here and on that of the festival there.

Well... We have a new email adress, if you need to contact us, write now to: lasocietepue [at] singularity.fr , take care!


...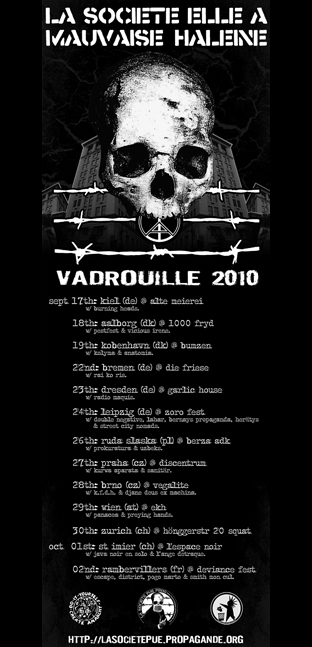 My name is Gregory...
VADROUILLE (RE)TOUR
6 in a van (yellow !!), 7200 km, 7 countries, 16 days, 13 gigs, cool peoples, crazy places, fiesta till end of the night, big slices of fun, full of stars in the eyes and a head full of memories... supporting the other more than 3 days was a challenge for us in the begining and here we are with the strange feeling that tomorrow we will wake up alone...when I think that yesterday I was 6! Anyway... back on tour and it was too good, strongly next!

Thank you to all those who made this possible: Rebeltias and the Alte Meierei in Kiel, Sissa and 1000 Fryd in Aalborg, Tamara and Bumzen in Copenhagen, Felix and the Garlic House in Dresden, Berza adk team in Ruda Slaska, Roberto and Discentrum in Praha, Krivosh and Vegalite in Brno, EKH in Vienna, Fabienne and L'Espace Noir in St Imier, Steph Deviance... and even more for the home and the rest to Martin, Stevie, and all at the Friesen Crew in Bremen, Schmit, Herne, Julie and Zoro in Leipzig, Marco and Paolo squat Hönggerstr 20 in Zurich... see you soon!

Hello also to the bands with whom we shared a piece of stage and had a good time... especially Rai Ko Ris (keep on rockin '!), Uzbeks and Kurwa Aparate (discoooo party!).

And finally... Special big kisses at Vince "a big beer for a big guy" aka Orga Toutalégout for his help and his company of 1st class during this tour and to Titi and his van (yellow!) without whom nothing would have been possible... we love you!


...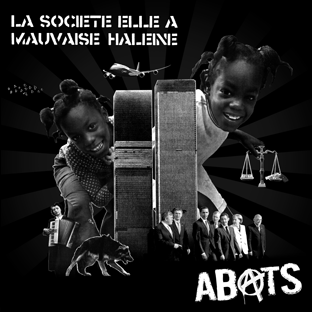 Split LP
LA SOCIETE ELLE A MAUVAISE HALEINE / ABATS
Just hot, here our new record! For Société side there is eight songs about the decoy of elections, zero tolerance, alienation tv, personal data collection, religious stupidity, regain control of our lives... including three covers ("Existe" of Nacht Und Nebel, "Vivre pas survivre" of Haine Brigade and "Alienation télévisée" from friends of Fourmis Delta). Songs recorded in 2007 in the wilds of northern Basque country...

On Abats side, you'll find also anarchopunk with F/M singers, maybe a bit more "bawled", for 7 tracks (including a cover of Aus Rotten) about the roles that we give ourselves and fantasized lives, to take our food into garbages, war, use of people who died "for the cause", hégémony of cis men straight culture, rape and gender-based violence... Songs recorded, mixed and mastered DIY at home between 2009 and 2010.

Records comes with a booklet contain lyrics, some activist contact, english translations... and packaged in a rough cardboard sleeve.

Released by several labels: Punk's Shadow, We Told You To Play Fast, Deviance, La Société Pue Prod, DissidAnce Records, Asso Domi, I Love Cops, Fuck Your Laws Records, Maloka and Mange Ton Maître, available for 7€ (ask for shipping cost)... Distros and labels get in touch... Trades are welcome !!


...